Why choose Spark Lectionary?
Lectionary-based

Sunday school lessons connect kids with Bible stories heard in worship.

Age-appropriate materials

Lessons in five age brackets for kids age 2 to grade 6.

Proven performance

Our most established Sunday school option, widely used and celebrated by congregations.

Exceptional extras

Provides worship bulletins, music, additional activities, and more.
How it works
A three-year curriculum with lessons that correspond to the Revised Common Lectionary. Every lesson has four parts: Gather, Open the Bible, Activate Faith, and Send. Kids can bring their Spark Bibles to class, or you can purchase a set to keep in the classroom.
Printed lesson materials are sold for fall, winter, and spring, and you can access leader content with a Sparkhouse Digital subscription.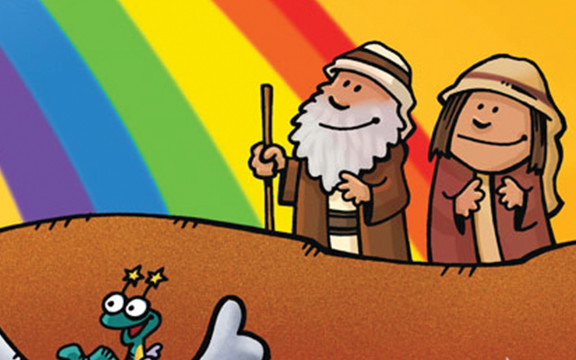 Spark Bibles
Help kids encounter the Bible with the colorful Spark Story Bible and the kid-friendly Spark Bible NRSV. Spark children's Bibles are the foundation of every lesson.
Need help getting the right resources for your church?
Try our Curriculum Order Builder to help get what you need for a great experience!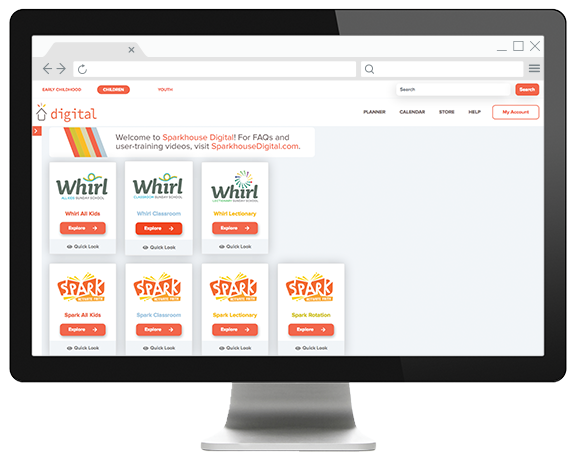 Simplify planning with Sparkhouse Digital
Get unlimited access to the Sparkhouse curricula and resources you know and love, all in a single, easy-to-use platform.
Scope and sequence
Spark Lectionary is a three-year curriculum featuring stories from the Revised Common Lectionary. Download the full scope and sequence.
Lectionary 24/14 Pentecost
Joseph Helps His Family
Genesis 45:1-15; 50:15-21
Lectionary 25/15 Pentecost
The Vineyard Workers
Matthew 20:1-16
Lectionary 26/16 Pentecost
The Chief Priests
Matthew 21:23-32
Lectionary 27/17 Pentecost
Parable of the Vineyard
Matthew 21:33-46
Lectionary 28/18 Pentecost
The Wedding Banquet
Matthew 22:1-14
Lectionary 29/19 Pentecost
Paying Taxes
Matthew 22:15-22
Lectionary 30/20 Pentecost
The Greatest Commandment
Matthew 22:34-46
Lectionary 31/21 Pentecost
Be Humble
Matthew 23:1-12
Lectionary 32/22 Pentecost
Ten Bridesmaids
Matthew 25:1-13
Lectionary 33/23 Pentecost
Parable of the Talents
Matthew 25:14-30
Reign of Christ/Christ the King
Sheep and Goats
Matthew 25:31-46
Advent 1
Be Ready
Mark 13:24-37
Advent 2
John the Baptist Prepares the Way
Mark 1:1-8
Advent 3
John the Baptist Proclaims Jesus' Coming
John 1:6-8, 19-28
Advent 4
Angels Visit
Luke 1:26-38
Christmas Day
Jesus Is Born
Luke 2:1-20
Christmas 1
Simeon and Anna
Luke 2:22-40
Baptism of Our Lord
Jesus' Baptism
Mark 1:4-11
Epiphany 2
God Calls Samuel
1 Samuel 3:1-20
Epiphany 3
Jonah and the Big Fish
Jonah 1—4
Epiphany 4
Teaching and Healing
Mark 1:21-28
Epiphany 5
Jesus Heals
Mark 1:29-39
Epiphany 6
Naaman Is Healed
2 Kings 5:1-19
Transfiguration Sunday
The Transfiguration
Mark 9:2-9
Lent 1
Noah's Ark
Genesis 6—9
Lent 2
Abraham and Sarah's Visitors
Genesis 18:1-15; 21:1-7
Lent 3
The Ten Commandments
Exodus 20:1-17
Lent 4
The Light of the World
John 3:14-21
Lent 5
Serve and Follow
John 12:20-33
Passion/Palm Sunday
Holy Week
Mark 11:1-11; 14:1—15:47
Easter Day
The Empty Tomb
Mark 16:1-8
Easter 2
Doubting Thomas
John 20:19-31
Easter 3
The Great Commission
Luke 24:36-53
Easter 4
The Good Shepherd
John 10:11-18
Easter 5
Philip and the Ethiopian
Acts 8:26-40
Easter 6
The Holy Spirit Comes Down
Acts 10:44-48
Easter 7
Matthias the Apostle
Acts 1:15-17, 21-26
Day of Pentecost
The Holy Spirit
Acts 2:1-21
Trinity Sunday
Isaiah's Call
Isaiah 6:1-8
Lectionary 24/16 Pentecost
Peter's Faith
Mark 8:27-38
Lectionary 25/17 Pentecost
Who Is the Greatest?
Mark 9:30-37
Lectionary 26/18 Pentecost
Share God's Love
Mark 9:38-50
Lectionary 27/19 Pentecost
Adam and Eve
Genesis 2:4-25
Lectionary 28/20 Pentecost
A Rich Man's Questions
Mark 10:17-31
Lectionary 29/21 Pentecost
James and John
Mark 10:35-45
Lectionary 30/22 Pentecost
Bartimaeus Sees
Mark 10:46-52
Lectionary 31/23 Pentecost
A Message from God
Deuteronomy 6:1-9
Lectionary 32/24 Pentecost
The Widow's Offering
Mark 12:38-44
Lectionary 33/25 Pentecost
Be Ready
Mark 13:1-8
Reign of Christ
Christ the King
John 18:33-37
Advent 1
A Good Ruler
Jeremiah 33:14-17
Advent 2
Zechariah
Luke 1:68-79
Advent 3
John the Baptist
Luke 3:1-18
Advent 4
Mary Visits Elizabeth
Luke 1:39-58
Christmas
Jesus Is Born
Luke 2:1-20
Christmas 1
The Boy at the Temple
Luke 2:41-52
Epiphany of Our Lord
Wise Men
Matthew 2:1-12
Baptism of Our Lord
Jesus' Baptism
Luke 3:15-17, 21-22
Epiphany 2
Wedding at Cana
John 2:1-11
Epiphany 3
Jesus Goes to Nazareth
Luke 4:14-30
Epiphany 4
Jeremiah
Jeremiah 1:4-10
Epiphany 5
The Disciples
Luke 5:1-11, 8:1-3
Epiphany 6
The Beatitudes
Luke 6:17-26
Epiphany 7
Joseph Feeds His Family
Genesis 45:3-11, 15
Transfiguration Sunday
The Transfiguration
Luke 9:28-36
Lent 1
Tempted
Luke 4:1-13
Lent 2
God's Promises to Abram
Genesis 15:1-12, 17-18
Lent 3
Parable of the Fig Tree
Luke 13:1-9
Lent 4
The Prodigal Son
Luke 15:1-3, 11-32
Lent 5
Mary Anoints Jesus
John 12:1-8
Passion/Palm Sunday
Holy Week
Luke 19:28-40; 22:14—23:56
Easter Day
Easter Day
Luke 24:1-12
Easter 2
Doubting Thomas
John 20:19-31
Easter 3
Saul to Paul
Acts 9:1-20
Easter 4
Peter and Tabitha
Acts 9:36-43
Easter 5
Peter's Dream
Acts 11:1-18
Easter 6
Lydia
Acts 16:9-15
Easter 7
Paul and Silas
Acts 16:16-40
Day of Pentecost
The Holy Spirit
Acts 2:1-4, 36-42
Trinity Sunday
Praise God
Psalm 8
Lectionary 24/17 Pentecost
The Lost Sheep and Lost Coin
Luke 15:1-10
Lectionary 25/18 Pentecost
Two Masters
Luke 16:1-13
Lectionary 26/19 Pentecost
The Parable of the Rich Man
Luke 16:19-31
Lectionary 27/20 Pentecost
A Seed of Faith
Luke 17:5-10
Lectionary 28/21 Pentecost
Ten Men Healed
Luke 17:11-19
Lectionary 29/22 Pentecost
Jacob Wrestles
Genesis 32:22-31
Lectionary 30/23 Pentecost
The Pharisee and the Tax Collector
Luke 18:9-14
Lectionary 31/24 Pentecost
Zacchaeus
Luke 19:1-10
Lectionary 32/25 Pentecost
The Sadducees' Question
Luke 20:27-38
Lectionary 33/26 Pentecost
God's Love Is Forever
Luke 21:5-19
Reign of Christ/Christ the King
The Day Jesus Died
Luke 23:33-43
Advent 1
God Will Bring Peace
Isaiah 2:1-5
Advent 2
God's Peaceful World
Isaiah 11:1-10
Advent 3
John the Baptist
Matthew 11:2-11
Advent 4
Angels Visit
Matthew 1:18-25
Christmas
Jesus Is Born
Luke 2:1-20
Christmas 1
Escape to Egypt
Matthew 2:13-23
Christmas 2
Jesus the Word
John 1:10-18
Baptism of Our Lord
Jesus' Baptism
Matthew 3:13-17
Epiphany 2
The Lamb of God
John 1:29-42
Epiphany 3
The Disciples
Matthew 4:12-23;
9:9-13; 10:1-4
Epiphany 4
The Beatitudes
Matthew 5:1-12
Epiphany 5
Salt and Light
Matthew 5:13-20
Epiphany 6
Jesus Teaches about Anger
Matthew 5:21-37
Epiphany 7
Love Your Enemies
Matthew 5:38-48
Epiphany 8
Do Not Worry
Matthew 6:24-34
Transfiguration Sunday
The Transfiguration
Matthew 17:1-13
Lent 1
The First Sin
Genesis 3:1-24
Lent 2
Abram's Call
Genesis 12:1-9
Lent 3
Woman at the Well
John 4:5-42
Lent 4
Pool of Siloam
John 9:1-41
Lent 5
Lazarus
John 11:1-45
Passion/Palm Sunday
Holy Week
Matthew 21:1-11; 26:14—27:66
Easter Day
The Empty Tomb
Matthew 28:1-10
Easter 2
Doubting Thomas
John 20:19-31
Easter 3
The Road to Emmaus
Luke 24:13-35
Easter 4
Early Believers
Acts 2:43-47; 4:32-37
Easter 5
God's House
John 14:1-14
Easter 6
The Promise of the Holy Spirit
John 14:15-21
Easter 7
The Ascension
Acts 1:6-14
Day of Pentecost
The Holy Spirit
Acts 2:1-21
Trinity Sunday
Creation
Genesis 1:1—2:4a
FROM THIS GROUP
Spark Lectionary
This collection contains 60 items. View entire group